Quick Trip to NYC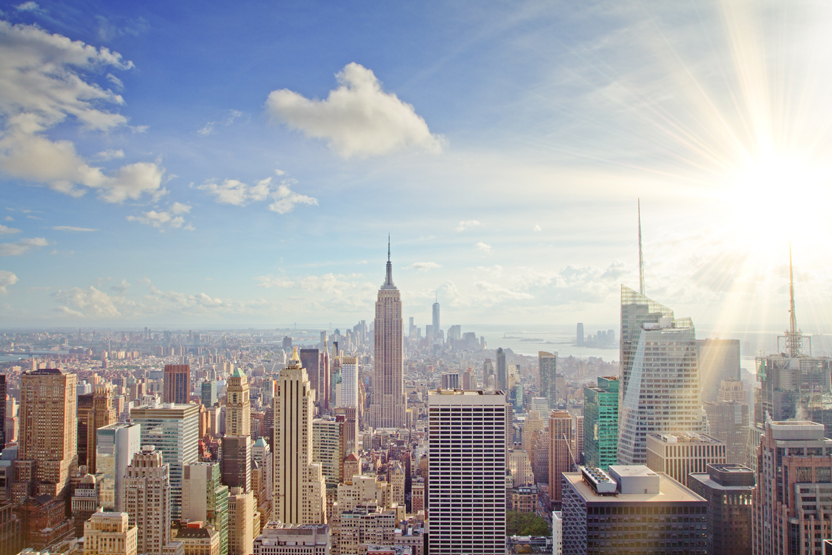 My husband mentioned he had something special planned for our 9-year anniversary and it involved leaving the kids with my mom. Now I love my husband, but he's the worst at surprises. Not because they're bad surprises, just that he either can't keep a secret or he picks something pretty obvious. In this case I had mentioned, now that we currently live on the East Coast, that it would be super easy to jet up to NYC! A few weeks later he had a "surprise". Love you babe!!
When it came down to the details he left them open to me. All the times I've been in the city have been through school trips: choir competitions in HS and basketball tournaments in college (college cheerleader here). To decide what exactly we'd be doing was a real treat!
I've done many of the touristy stuff in NYC before and I've even seen several Broadway shows, but my husband has not so I wanted to make sure there was a fair share of stuff I was interested in doing and stuff he wanted to do that are "must dos" when visiting. Here lies the real challenge...we only had 2 days and 2 nights to do it all in! Here's what we did and where we stayed:
We left VA around 4:00 pm Monday and arrived in NYC ready to party at 9:00 where we of course first checked into our hotel, The Intercontental Times Square (on Broadway).
So we are PARENTS you guys and we were dead tired, but we wanted a taste of the night life and I was determined to squeeze in as much stuff in our stay as possible so we grabbed and UBER and headed to the Upper East Side to a Speak Easy style bar called Sugar East. Known for its fun super delicious drinks and 1970's atmosphere this at did not disappoint and the host clearly was there to entertain and make sure fun was being had by all. I tried the smoking coconut drink featured on their menu here and it was an interesting and yummy treat! After a few hours of dancing and drinks we walked a ways to check out more of the Upper East Side before catching an UBER to the Intercontental for some much needed sleep.
Images by Sugar East
DAY 1: Wake up. Starbucks.
It's an easy feat to find a Starbucks in the city and since my husband does IF (intermittent fasting), I wasn't about to spend big bucks on breakfast for me. Not when my combination of Cold Brew and a GF breakfast sandwich can do the trick!
We briefly sat in Times Square until I finished my sandwich then off we went to explore Central Park.
Central Park is such a gorgeous slice of heaven in the city and is now my favorite spot next to Bryant Park (for the love of fashion). I love to people watch and Central Park is the perfect place to catch New Yorkers and tourist doing some pretty interesting things! Whether it's Tai Chi or boat rides you can find people peacefully partaking in things they love. Perhaps to escape the stress of the city and it clearly works for them because everyone we encountered couldn't have been nicer (even the Monks who put bracelets on your wrist then ask for money). My two must see things were the Strawberry Fields section of the park (for the Imagine monument to John Lennon) and the famous Bow Bridge (if you follow me on IG you would have seen some Instagram stories from it). Both did not disappoint and if you saw my post, "Floral in The City" you would have seen a little bit of the park as well.
After exploring the park all morning my IF husband was starving and really looking forward to the lunch I had planned for our first full day in NYC, pizza of course! We decided on Rays Famous since it had great reviews and was along our walk back to the hotel and it didn't disappoint!
In a pizza coma we returned to the hotel to refresh for the afternoon. The Intercontinental in Times Square is a fabulous hotel and we really enjoyed our stay. You can't beat the location right on Broadway in Manhattan and although we didn't see a show this time it would be the perfect place to stay since most of the big names are located right there. The staff was amazing and super helpful (we're looking at you Alvin)! I can't recommend this hotel enough and if you have any questions about our stay just ask).
In the afternoon I decided we should check off a must do in NYC that I had done, but Aaron had not so off we went to the Empire State Building to check out the views. They say the least busy times are meal times, but our wait around 3:00 was not too bad. Anyways check that off the list!
After that we walked (yes we walked a lot) to Grand Central Station to check out this iconic spot and take it the hustle and bustle of NYC commuters in their daily routines.
After Grand Central we walked back to our hotel to relax and change for a trip to Greenwich Village for some unique eats.
You guys I have wanted to try Cookie Dō NYC ever since I caught a video about it on Facebook. So I planned our first dinner around visiting it! Greenwich village is the cutest and trendiest place to live in NYC. Close to NYU it's no surprise to see college students walking the streets in work out gear, trendy outfits, or comfy study clothes. Our UBER drive over was pleasant and police were out removing everything from the famous PRIDE day parade.
The newness of Cookie Dō NYC clearly has not worn off or the place does a really great job of keeping people coming back for more (probably the later) because this line was no joke you guyssss! 30 minutes is what it took to try out this sugary, cookie dough goodness and in the end my sugar hating stomach chickened out and went with a small box of samples rather then the crazy fun concoctions you can get. All in all it was a super cute place and the dough sample pack I had was the perfect pre-dinner treat (yep went there first).
For our anniversary dinner we walked around the block to DOMO DOMO and it was so good. DOMO (thank you in Japanese) is a trendy upscale take on sushi with their unique hand roll combinations such as spicy tuna and a sweet potato chip! The ambiance and furniture instantly transported me back to our days in Kamakura, Japan! The staff was friendly and attentive and the chefs work: genius! I definitely recommend you check them out the next time you have a taste for sushi in NYC!
Tired we retreated to our hotel to finally catch up on sleep!
Day 2: Last day. Sigh.
The last day we slept in and then decided to keep it super casual before the long drive back to Virginia. For my love of all things fashioned we walked around he Garment District and through Bryant Park all on the way too my other love: Indian Food. You guys I love food. Perhaps I should start a Food Blog too...
Again. I love Indian Food. When I lived in Monterey California some of my favorite people were from Fiji and made the most delicious vegetarian Indian Wraps with a thin Roti (whole wheat Indian bread) wrap. When I found out there was a new "fast casual" (think Panera/ Chipotle/ etc.) Indian franchise whose menu revolves around these types of wraps, I HAD to go. At $5 a wrap (one wrap is a snack and two wraps a meal unless you're my husband than you need three) these are definitely NYC fast casual prices, but it was so worth it. They even have lassi's (Indian Yoghurt based drink) there to grab with your meal to drink. Between my husband and I we tried the Chana Masala, Chicken Tikka Masala, and Beef Tikka Masala wraps and none of them was a disappointment! I mean this place has me thinking of becoming a franchisee?! Or maybe an investor of one? Who wants to open one in Virginia?! Anyone?! It was so good you guys! Definitely check out The Kati Roll Company next time you're in NYC with their four locations: Greenwich Village, East Village, Midtown West (the one we tried a block from Bryant Park) and Midtown East.
Along the way back to our hotel to pick up our luggage ( thanks Intercontinental for holding it while we checked out more of the city sans check out time) we stopped at Rockefeller Plaza. I had originally thought we'd try and get on The Today Show but sleeping in won out this trip. We got there just in time as The Today Show production team was taking everything down, but hey it was still awesome to check out the area anyway!
We had a great, quick trip and we're ready to do it again for sure. Especially now that we've tested out our babysitter (wink wink Mom). What should we do or see next time we're there? Have you been to these places and if so what did you think?
Xoxo, JZ